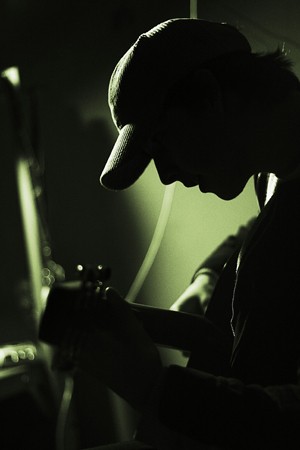 Photo by trublueboy
The question came up on a forum "Whats wrong with playing just for the sake of playing" and as I was typing a rather long-winded response, it became obvious that this was really something requiring a blog post.
There's certainly nothing wrong with "playing for the sake of playing" (in fact, it's probably the most enjoyable aspect of being a musician) but it is a distinctly different activity than "practicing" and it's good to understand what your intention is when you pickup the guitar.  I sometimes get students who come to their lesson and can't do very simple things that they were assigned a week ago (or more) and yet the tell me they practice several hours a day.  But when I ask them what it is they practiced, it's rarely the things they need to do if they're going to improve their skills.  Often it's just playing songs they already know well over and over again.  While this "feels good" it rarely leads to improvement.
To "practice" is to pick up the instrument with intention to either learn something new, improve on something you already know, or review something you need to refresh.  Now within those parameters, there's a lot of flexibility.
If you just want to "play" then why not get a gig, or go to a jam session, or call some friends over to jam, or make a youtube video or recording.  Find some way to share it with other people.  Maybe you don't feel ready for that, but the truth is nobody ever feels ready.  No matter what level you're at, playing and performing, especially with others, is always beneficial. It's fun and will keep you from falling into ruts.   In fact, I'd assert that it's by playing that you discover what it is you need to practice!
For instance:
Someone might call out a song you don't know.  Maybe it's an easy one that you can learn on the spot, but maybe you found it difficult? There's your cue; go home and practice it so that next time you'll be ready.  Get the recording, get the music, and really work on it! The internet has made it so easy to find and learn new music that there's really no excuse for not knowing a tune (except maybe the first time). You'll be amazed at how your confidence grows over time if you just develop this one simple habit.
Maybe your improvising on a certain song and have trouble whenever you hit a certain chord change; put that on your "to do" list for your next practice session (by the way lists are really helpful in helping you decide what to do with your valuable time).  Practice improvising on the tune at home using Jamey Aebersold play-longs, Band-In-Box, the iRealBook app, or whatever.  Don't just gloss over the difficult parts; Stop and take the time to figure out what to play over them.
Or say you have a gig coming up and just want to make sure that you're on top of all your material (you know if you haven't played it in awhile, sometimes it goes away).  Why not run through your whole set at home so that you don't have a memory lapse on the bandstand.  That way you can relax and have fun on the bandstand (or at the jam), and that's really the whole point, isn't it?
Anyway, you get the idea.
By the way, if you're looking for people to play with and don't quite feel ready for Smalls, I just learned of this Meetup group called Tune Up!.  Looks like a good place to find other musicians to play with.  Also, Jazzmobile's Saturday Workshop Program is starting up again.  Auditions for guitar are this Saturday, January 26th.  For more info, click here.
Hope you find these suggestions helpful.  You can always email me (or leave comments on this blog) if you have questions.  I can't answer everything at once, but knowing what will help you helps me when I'm deciding what to write about next.
Thanks!