Gypsy Jazz Guitar Solo Transcription: Django Reinhardt's "Swing Gitan" as played by Leigh Jackson
A few years back, a fellow musician needing money was selling some guitars, so I bought his Gitane John Jorgenson model. Gitane guitars are styled after the Selmer Maccaferri guitars favored by Django Reinhardt and others who perform the Gypsy jazz guitar style (also known as "jazz manouche"). Prior to amplification, these instruments were very popular due to their unique ability to project acoustically with a lot of volume in the upper and mid-ranges, making single-line soloing possible while playing with a group.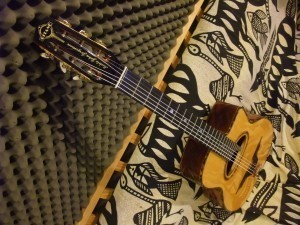 Prior to getting the Gitane, I'd never really played the Gypsy jazz style, so as soon as I got it, I started looking around for some music to play. Then one day while searching Youtube for gypsy jazz guitar players, I found this wonderful rendition of Leigh Jackson performing Django Reinhardt's tune "Swing Gitan." I immediately fell in love with the song and Leigh's solo and soon transcribed and learned the whole thing.
The first thing that strikes me about the Gypsy jazz guitar style is that, whereas bebop and post-bop styles are somewhat scale oriented, the manouche style is much more focused on arpeggiation of the chords. So while there are only four chords in this tune, the simplicity is deceptive and you really must play with precision because it's not so easy to wiggle out of a mistake. Playing the gypsy jazz guitar style well provides plenty of challenge, but it's a lot of fun and can improve your overall technique and musicianship as well.
Over the last few years, a number of my students have enjoyed learning and performing this transcription, and I hope that you will too!
Some Ideas About Practicing the tune:
After you've learned Leigh Jackson's transcribed solo here, I highly recommend that you learn to improvise your own solos on the changes. Here are a few ideas that I've found to be helpful when playing on the chord changes. Learning the following will give you a solid foundation to build from:
G minor  Learn the notes of the minor triad (G-Bb-D). Try using lower neighbors to approach the chord tones (F# to G, A to Bb, C# to D, etc.). Try using the upper neigbors resolving into the triad notes (A to G, C to Bb, Eb to D). Play the Gm(add 9) arpeggio G-A-Bb-D. Play the Gm6 arpeggio (G-Bb-D-E). The Gm69 Pentatonic (G-A-Bb-D-E).
A7  Play the notes of the A7 chord (A-C#-E-G), the A7b9 (A-C#-E-G-Bb), the C#o7 (C#-E-G-Bb) or the D Harmonic Minor Scale decending from Bb down to C#. Also the A7b9 Pentatonic (A-Bb-C#-E-G).
D7  Play the notes of the D7 chord (D-F#-A-C), the D7b9 (D-F#-A-C-Eb), the F#o7 (F#-A-C-Eb) or the G Harmonic Minor Scale decending from Db down to F#. Also The D7b9 Pentatonic (D-Eb-F#-A-C).
Ab7  Play the notes of the Ab triad (Ab-C-Eb), the Ab7 chord (Ab-C-Eb-Gb), the Ab6 chord (Ab-C-Eb-F), the Ab9 Pentatonic (Ab-Bb-C-Eb-Gb) or the Ebm69 Pentatonic (Eb-F-Gb-Bb-C).
When practicing any of these, don't always start from the root. Try to find lines and prases that connect with a note from the next chord right on the downbeat. There are endless variations, so after you've learned the basic chord-tones, you can have lots of fun exploring the possibilities.
About Leigh Jackson
Leigh Jackson was born in England but moved to New Zealand in his teens. He started playing jazz after attending a Jamey Aebersold workshop where he got to study with guitarist John Scofield and saxophonist Dave Leibman. For the last 30 years he has performed regularly in a variety of styles from jazz to rock and fusion. His CD "Paralax" was released in 2004. Leigh is a respected jazz educator and is the Director of the New Zealand Gypsy Jazz Guitar Workshop. Many thanks for his permission to post this transcription of his work here. For more information, visit http://www.leighjackson.com/
About Soundslice Notation
A little while back I met Adrian Holovaty online.  Adrian is an excellent Gypsy Jazz guitarist from Chicago and also an brilliant computer programmer.  He was one of the original developers of the web framework Django which is now used by sites like Pinterest, Instagram, Mozilla, The Washington Times, Disqus, and many others.  His most recent creation Soundslice allows music notation to be synced with online videos.
To truly appreciate everything you can do with Soundslice, click on the gear in the lower right corner and explore the settings panel.  You can then easily navigate the notation, slow it down, loop sections, etc., all the while watching the original video!  It's really an amazing tool for teaching and learning music and we're using it for many of the lessons on JazzGuitarLessons.com.
Soundslice uses flash, so it doen't work well on iPhones, so if you're having trouble viewing the transcription, you can also download it as a pdf: Swing Gitan – Django Reinhardt (as played by Leigh Jackson)
Please leave a comment below and use the buttons below to share this post on your favorite social media sites.
Thanks.
Musically Yours, Don't forget to get your FREE eBook
(by signing up, you'll also stay informed when new videos are published)
P.S. If you love the lessons you find here, don't be selfish.  We make it easy to share with your friends.  Just click on the SOCIAL BUTTONS at the bottom of this post to share on your favorite social network.